Matic Wines Kerner
$19.00
Kerner is a deliciously fruity, medium bodied white wine. Often found in vineyards throughout Germany, Austria, Northern Italy, and Switzerland, it is a cross between Riesling and Schiava. Matic's Kerner is lively and fun, showing floral notes as well as the acidic and mineral backbone. Coming from a 27-year-old vineyard, the fruit is mature enough to produce excellent fruit. All organically / biodynamically farmed, the wine is rested on the skins for 36 hours after it is gently pressed. It then ages for six months on the fine lees. This adds texture and complexity to the wine. Perfect for summer, this wine is outstanding on its own or paired with fish, salads, and grilled meats.
Compare
Additional information
| | |
| --- | --- |
| Weight | 3.5 lbs |
| Producer | Matic Wines |
| Appellation | |
| Variety | |
| Farming | |
| Fermentation | |
| Aging | |
| Vintage | |
Worry-Free Shipping
When buying online, the shipping and customer service are the two most important aspects. We love wine and the environment so your wines are in good hands. Shipping will be done in 100% recycled cardboard shippers and we encourage you to order a minimum of 6 bottles per shipment.
Compliance Requirements
UPS and FEDEX deliver wine to customers who are 21 years or older.
You will need to be home at time of delivery To verify you are over the age of 21. If you are not home at the time of the shipment please contact the shipper to arrange pickup or delivery. If you do not arrange to pick up your package after the attempted deliveries, the shipment will be sent be back to us and we will not refund the shipping fee.
When you order wine at Vinchase,   You become the owner of the wine at our Washington DC Shipping location, and we will arrange the shipping on your behalf to your home address.  As the owner of the wine you are responsible to follow all your state and local laws regarding the shipping of wine to your home address.
COVID Shipping
UPS and FedEx declared that in order to protect their workers and customers, they no longer require a signature on delivery. UPS delivery workers will make sure the person receiving the wine is 21 years or older, and will ask for his/her name – only then do they deliver the package.
Shipping Rates and Details
We will do our best to provide you the best shipping rates available. Because wine is heavy, shipping is expensive and to maximize your shipping expense and lower the carbon footprint please consider ordering six or more bottles each delivery.
Subscription members orders will be shipped on the 15th of each month. If you order on the 14th, your order will be shipped. If you order on the 16th or after, your order and membership will begin on the 15th of following month.  Feel free to order from out bottle shop in the mean time.
What happens after you order?
1. You will receive an order confirmation email with your order summary.
2. When the order ships you will receive a shipping confirmation email with your tracking information.
3. Please track your package using the tracking service provided by the carrier.
4. The carrier will attempt delivery a maximum of 3 times. After 3 delivery attempts, your package will be sent back to our warehouse.
Please ensure your email and phone number are correct, otherwise, you may not receive the order and shipping confirmation details.
If delivery is attempted 3 times unsuccessfully or if you do not pick up your package at the carrier by the stated deadline, the shipping fee will not be refunded to the customer.
Return Policy
If you are not satisfied with our products, please contact us at 312-753-9134 or via e-mail at sasha@vinchase.com between 9 am and 5 pm Central Time, Monday through Friday, we will make sure each client is satisfied with Vinchase wines.
Upsell Products
SHOP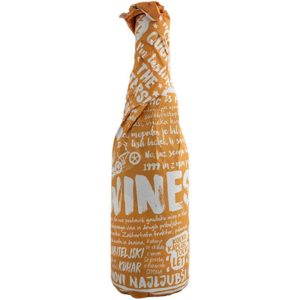 Quick View
Quick View

This Pet Nat is a special and exclusive wine from young Slovenian producer named Matic. Organic and biodynamic farmed Riesling, hand harvested and wild yeast fermented and aged for 22 days on the skins in a clay Amfora. Unfiltered, no added sulfites.  This wine is a fresh, dry sparkling that will reward the adventurous drinkers. Herbal and earthy notes with some fresh peach, great acidity, tons of flavor and complexity. Serve well chilled and gently turn bottle upside down and roll bottle before opening. Excellent as a party starter or with light meals.