Zlatan Otok
| | |
| --- | --- |
| Country | Croatia |
| Appellation | Hvar |
| Age of Wines | 35 to 65 |
| Soil | Karst (landscape formed from the dissolution of soluble rocks) |
| Altitude | 15 to 3200 ft. |
Vineyards With A Sea View
Zlatan Otok winery was established in 1986 as one of the first privately-owned wineries in the ex-Yugoslavia. The current name 'Zlatan Otok' which means 'Golden Island' was taken in 1993. The founder of winery was Zlatan Plenković, who was the most awarded Croatian winemaker. The winery manages 10 ha of vineyards on Hvar island and 75 ha in Baška Voda – Makarska vineyards and purchases grapes from another 80 ha (on Hvar) and about 65 ha (from Šibenik). The focus is on old local indigenous Dalmatian varieties. A part of the wines is kept in a unique basement, built some 70 m below the ground, where a temperature is always 11-12 °C. Zlatan Otok produces about 900.000 bottles a year.
Vineyards
All the vineyards are nurtured and wine produced under the very strict organic conditions.
The vineyards are strategically surrounded by gorgeous fields of lavender, rosemary, and beautiful olive groves. The Mediterranean climate is a natural deterrent to various pests and so no chemical intervention is needed.
Hvar vineyards: southern slopes of Hvar, extending from Milna-Sv. Nedelja-Zavala. Elevation of slopes ranges from 40-60%. Plavac Mali prevails there. Viticulture involves exclusively manual processing with a small yield of less than 1 kg of grapes per vine. The specificity of a local climate, soil and viticulture implies no chemical protection of vineyards is needed. Apart from Plavac Mali (50%), the following white varieties were planted: Pošip, Bogdanuša, Maraschino, Yellow Muscat and others.
Makarska vineyards: 75 ha with 650 000 vines below Mount. Biokovo, in the area of Baška Voda, was established in 2004, with altitude between 30 and 400 meters. The following varieties were planted: Plavac Mali, Crljenak (Zinfandel), Merlot, Cabernet Sauvignon, Syrah (red); Pošip, Žilavka, Dubrovačka Malvasia, Chardonnay, and Yellow Muscat (white). From their Makarska vineyard Pošip 2010 became a regional champion at the Decanter World Wine Awards 2012.
Šibenik vineyards: it covers an area of 65 ha with about 500.000 vines. The following varieties were planted: Plavac Mali, Babić, Crljenak (red), and Pošip (white).
Terroir in Hvar
The southern side of Hvar island is comparable with the most famous Dalmatian appellations – Dingač and Postup from Pelješac peninsula. The slope elevation is 40 to 60%. Rocky soil is responsible for the extraordinary minerality of the wines. Terroir is ecologically pure, so when, for instance, rains, the water goes down providing the rocks with the humidity, which in turn allows plants to survive. On the northern side, however, it is less rocky and flatter. Also, after the rain, water stays on the surface, the humidity goes up, and diseases may flourish.
The mission of the Zlatan Otok winery is to promote Croatian wines, and produce high-quality wines from the grapes cultivated on the specific and unique Dalmatian terroir. The key focus is on the wines produced from indigenous grape varieties. They always insist on quality and in such a way contribute to a culture of excellence in wine production.
In addition to the traditional Plavac Mali grape variety, Dalmatian wine producers have enriched their vineyards to include varieties such as Zinfandel, Merlot, Cabernet Sauvignon, Syrah, and whites varieties: Pošip, Chardonnay, Prč and Bogdanuša. Zlatan Otok is also well known for its unique restaurant and port called 'Bilo Idro' (White Sail).
SHOP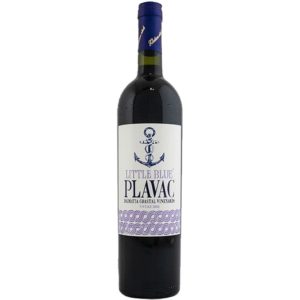 Quick View
Quick View

Plavac Mali grown near city of Sibenik on the Dalmatian Coast. Organic famed and wild yeast fermented in stainless steel tanks. Typical Plavac Mali with flavors of plum, black cherry and herbs.