Pivnica Cajkov "Intacto" Devin Skin Contact
Pivnica Cajkov "Intacto" Devin Skin Contact
$36.00
The Uhnak family is strongly linked with the village of Čajkov on the southern slopes of Sitno Volcano, Central Slovakia. They have been growing vine here for more than 500 years. The seal by the Archbishop of Estergom from the year 1666, which entitled our family to trade in wine and agriculture products, is a symbol and a materialization of my ancestors' abilities and at the same time it is a challenge for me to stay true to their legacy. The viniculture region under the Sitno Volcano is a magic place where two climates meet. The hot –southern part of Europe (Panon basin Pannonicum) overlaps here with the cold – northern part of Europe (West Carpathians – Carpaticum occidentale). Vineyards under the Sitno Volcano spread mostly over tuff. Soft tuff is volcanic ash and hard andesite is volcanic lava. Volcanic soil is porous and it perfectly absorbs water, gases, and oxygen that are subsequently available to grapevine roots penetrating the volcanic bed. Wild yeastfermented, Unfiltered, Unfined, No added Sulfites.
Eloquent wine with succulent acidic backbone & nutty, savoury touch, ending on raisins and rocks. A wonderful companion for the whole evening, ever-evolving in your glass.
Devín is the child of communist times – somebody in Slovakia once had the idea that we need our own type of Traminer, one that can survive our crazy winters. Thus, this grape was born: son of Traminer, daughter of Rotweisser Veltliner, aromatic yet resilient. Tbh, I never liked the wines it produced, but fate brought me a vineyard with some of it. I thought I'd pull it out as soon as possible, yet time went by and the vines still stood there, intact and proud. So, I dropped the attitude and took up the challenge. Using lower yields, a slightly oxidative elevage and multi-vintage blending, I turned my once-Nemesis into a new friend
Compare
Worry-Free Shipping
When buying online, the shipping and customer service are the two most important aspects. We love wine and the environment so your wines are in good hands. Shipping will be done in 100% recycled cardboard shippers and we encourage you to order a minimum of 6 bottles per shipment.
Compliance Requirements
UPS and FEDEX deliver wine to customers who are 21 years or older.
You will need to be home at time of delivery To verify you are over the age of 21. If you are not home at the time of the shipment please contact the shipper to arrange pickup or delivery. If you do not arrange to pick up your package after the attempted deliveries, the shipment will be sent be back to us and we will not refund the shipping fee.
When you order wine at Vinchase,   You become the owner of the wine at our Washington DC Shipping location, and we will arrange the shipping on your behalf to your home address.  As the owner of the wine you are responsible to follow all your state and local laws regarding the shipping of wine to your home address.
COVID Shipping
UPS and FedEx declared that in order to protect their workers and customers, they no longer require a signature on delivery. UPS delivery workers will make sure the person receiving the wine is 21 years or older, and will ask for his/her name – only then do they deliver the package.
Shipping Rates and Details
We will do our best to provide you the best shipping rates available. Because wine is heavy, shipping is expensive and to maximize your shipping expense and lower the carbon footprint please consider ordering six or more bottles each delivery.
Subscription members orders will be shipped on the 15th of each month. If you order on the 14th, your order will be shipped. If you order on the 16th or after, your order and membership will begin on the 15th of following month.  Feel free to order from out bottle shop in the mean time.
What happens after you order?
1. You will receive an order confirmation email with your order summary.
2. When the order ships you will receive a shipping confirmation email with your tracking information.
3. Please track your package using the tracking service provided by the carrier.
4. The carrier will attempt delivery a maximum of 3 times. After 3 delivery attempts, your package will be sent back to our warehouse.
Please ensure your email and phone number are correct, otherwise, you may not receive the order and shipping confirmation details.
If delivery is attempted 3 times unsuccessfully or if you do not pick up your package at the carrier by the stated deadline, the shipping fee will not be refunded to the customer.
Return Policy
If you are not satisfied with our products, please contact us at 312-753-9134 or via e-mail at sasha@vinchase.com between 9 am and 5 pm Central Time, Monday through Friday, we will make sure each client is satisfied with Vinchase wines.
Upsell Products
SHOP
Quick View
Quick View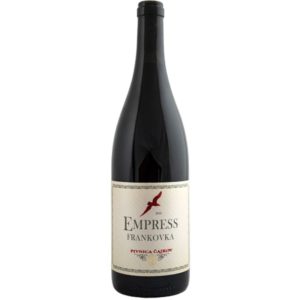 Quick View
Quick View

Frankovka (or Blaufränkisch) is the most typical red wine variety native to the old Habsburg monarchy. The grapes are coming from Sitno Volcano at the northern border of winegrowing in Central Europe.
Wine is macerated for 28 days on the skins in open vats, and then matured in old oak barrels for three years.
Cajkov Empress Frankovka is bursting with fresh mineral acidity, with superbly integrated alcohol. This wine is a sophisticated reminiscent of Pinot Noir style. It also has a great ageing potential.
Frankovka is a superb match for variety of lamb dishes and grilled meats.